About Us
Who we are & what we do
The Canggu Weekly is the leading advertising and news magazine for Canggu and the surrounding areas.
The Canggu Weekly has been founded in 2016 to provide the Canggu community with a fast and affordable option to advertise their bars, restaurants, home-stays, hotels, shops, services or their events.
Beside this we always try to provide you with a good read, to cover some important news for Canggu and Bali in general and to share some entertaining stuff like crosswords or our popular jokes page.
The Canggu Weekly is available for free (free as in "free speech" and also as in "free beer") at more than 150 locations in and around Canggu every week.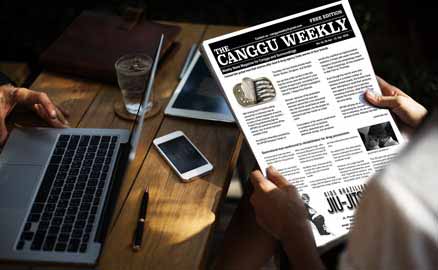 Download
Download your copy of The Canggu Weekly
To download your copy of The Canggu Weekly simply click on the "Download the latest issue" button or, if you want to download one of the previous editions, simply select the edition you want from the drop down menu.
Please note: Our downloadable edition is provided in PDF format and can be displayed on any device as long as you have a PDF reader installed.
If you own an iPhone and the PDF is not displayed as expected please do not ask us for advice. We dont have any. Go and get a proper phone instead.
How To
How to get your advertising in The Canggu Weekly
We can not tell you how to repair your dish-washer or how to fix your motorbike. But we can tell you how to get your advertising in The Canggu Weekly as fast as possible.
Simply send us a message by using the contact form below or a direct email using the email address provided in the page footer.
In reply to your message or your email you will receive our Media Information Package with sizes, prices and deadlines along with all information needed to get your ad in The Canggu Weekly published in a breeze.
Contact Us
Get in touch with us, ask questions or simply say something nice